Full Steam Ahead
June/July 2021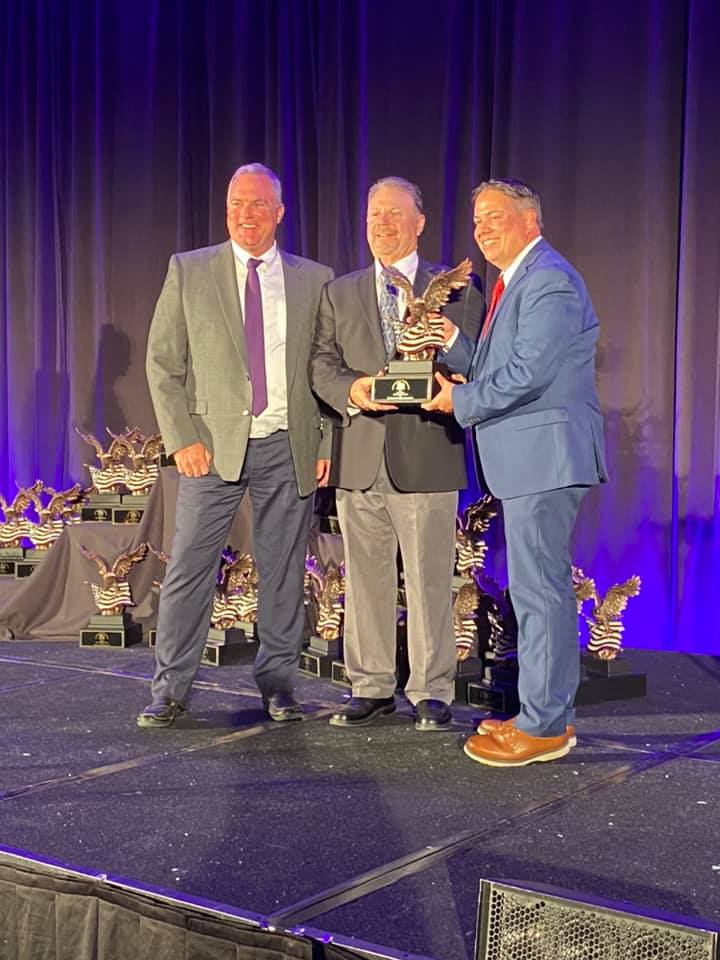 And the Winner Is…
ABC Member companies have the opportunity to compete for honors in the construction industry's premier bi-annual awards program—the ABC Excellence in Construction Awards competition—that recognizes the outstanding merit shop project's innovation, quality and vision of the project team—contractors, architects, engineers, owners and others—who have played a vital role in the project's completion. Projects are judged on a variety of criteria such as safety, personnel management, quality control, scheduling and degree of difficulty.
Chris-Tel Construction is pleased to announce that on Friday, May 7th, the MY Shower Door/D3 Glass Headquarters project won the Associated Builders and Contractors Excellence in Construction Award for the General Contractor Industrial Category for projects less than $5 million!
The MY Shower Door/D3 Glass Headquarters project will now be entered for consideration to win the National Excellence in Construction Award for its respective category.
---
Cypress Cove Re-Roof Project in Full Swing
Construction on the Cypress Cove at Healthpark Florida Campus is in full swing. Chris-Tel Construction is the Construction Manager for this project which consists of re-roofing various buildings throughout the Cypress Cove campus to include nine (9) villa buildings, two (2) mail kiosks, the skilled nursing facility known as The Lodge at Cypress Cove, the assisted living facility known as The Inn at Cypress Cove, the clubhouse, four-story independent living building, lakeside café and eighteen (18) carports. In total, the re-roof encompasses 526,930 square feet!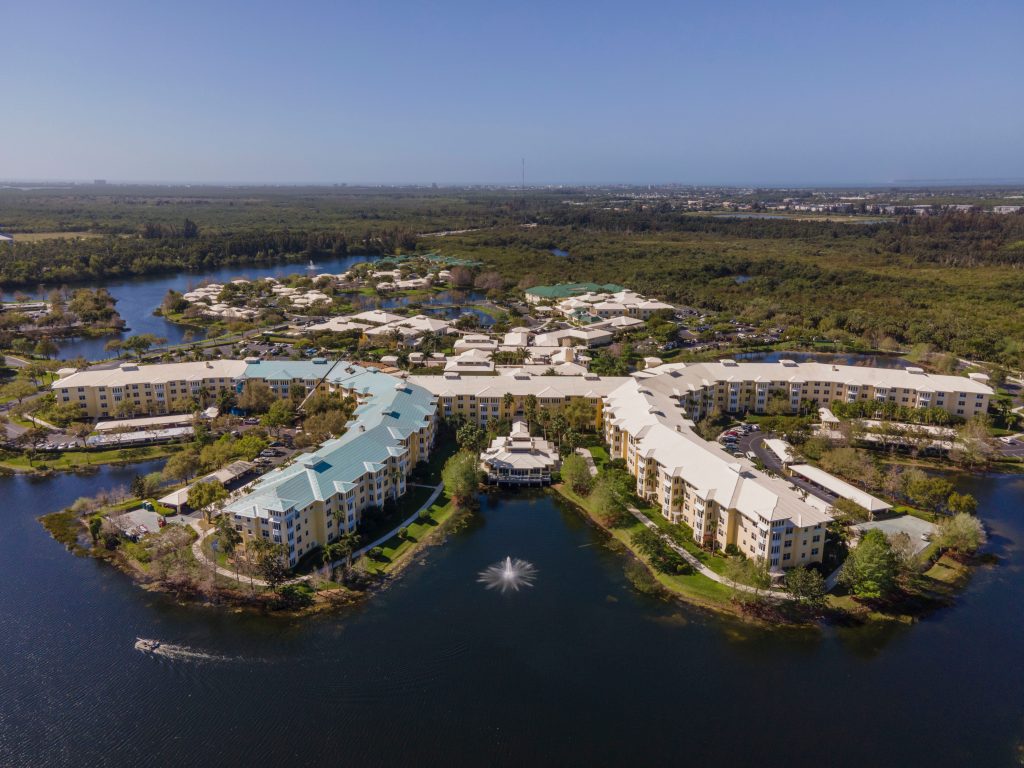 Alex Maziekas is the Project Manager overseeing the project with Superintendents George Pisello, Gary Poore, and Allen Dituri on site managing the subcontractor and crews performing the work, CFS Roofing Services. Additionally, the Superintendents manage the day-to-day construction activities and ensure the safety and security of the residents and staff on the Cypress Cove campus.
The project consists of removing the existing tile roof, stripping it down to the ply-wood, and replacing the roof with a standing seam metal roof.
Due to cost savings realized on the project, the existing green roofs will all be changed to white. Not only does this change provide aesthetic consistency throughout the campus, but it also helps to protect the asset by resetting the roof warranties and reducing the energy consumption by improving the solar reflectivity of the roof so that less heat is absorbed through the building itself.
Through diligent scheduling practices, our team expects to complete the entire re-roof project by January 2022. Once complete, our team will roll in to two additional projects on the Cypress Cove campus including new construction of the Oaks and renovation of various amenities and facilities throughout the entire campus.
---
Kudos Korner | Lisa Gatewood | Assistant Project Manager
The work that our field team completes would not be possible without the help of our administrative team orchestrating and coordinating the key components that make these projects possible. Lisa Gatewood is an instrumental part of the Chris-Tel team, assisting the Project Managers, Field, and Accounting staff with permitting, construction document administration, pay applications, client communication, contracts and overall project coordination from onset to close out for the Special Projects Group ($4M and under).
Lisa began her career at Chris-Tel Construction in September 2019 with experience in accounts payable and receivable, having recently received her Associates Degree in Accounting at Rasmussen College, but was brand new to the construction industry. It did not take long for Lisa to learn the ins and outs of the construction industry. She caught on quickly to all of her job responsibilities and has fit in exceptionally well with everyone in the company. Her can do attitude, organization, and willingness to learn has contributed to her professional and personal growth here at Chris-Tel. Her willingness to help others and her professionalism with clients is most appreciated!
We are extremely lucky to have Lisa as part of our staff and know that great things are yet to come from her. Keep up the great work Lisa!
---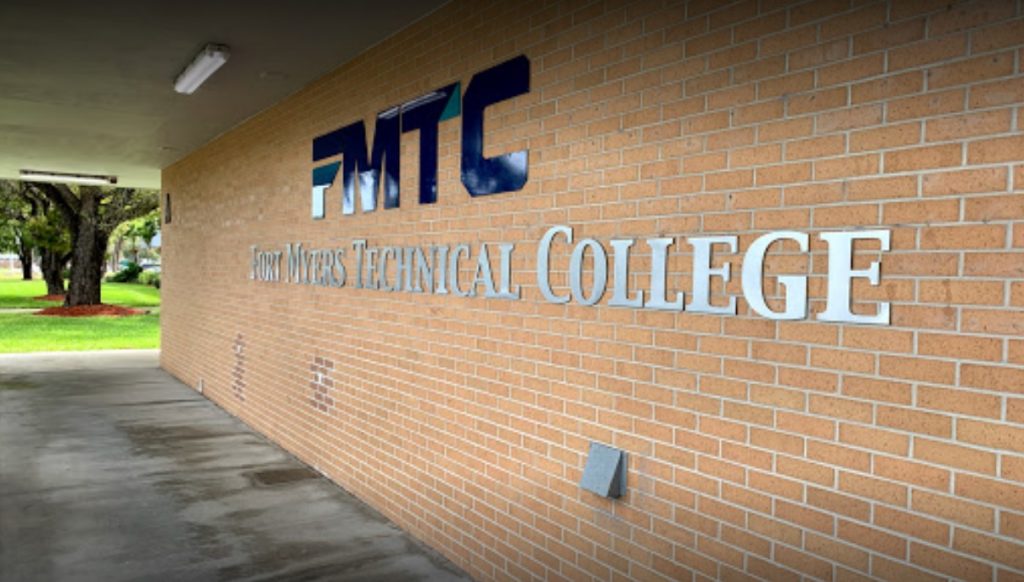 Commercial Construction Group
Chris-Tel's Commercial Construction Group encompasses all vertical projects over $4M dollars. The group consists of two Project Managers, five Superintendents, a Manager of Construction Operations/Project Executive, an Assistant Project Manager and a Scheduler/Planner.
Several projects are making their way through the final design and preconstruction phases, and have an anticipated construction start at the end of this year. One of which being, the Fort Myers Technical College campus renovation which was awarded to Chris-Tel by the School District of Lee County. This project is an entire campus renovation to help support the growing technical college and their programming needs. RG Architects is the selected design team, and we are working closely with their team to assist with design and constructability.
Additionally, we were awarded East Pointe Place through the Housing Authority of the City of Fort Myers. This project consists of new construction of three, three-story multi-family buildings totaling 90 units. The buildings range from 33,000 SF to 55,000 SF and are a mix between one-, two-, and three-bedroom units. Construction is tentatively slated to begin in August of this year and will take approximately 14 months to complete.
Other projects our team is working on include the Bay Harbour Marina and Boat Barn, and the Cypress Cove Expansion Project, The Oaks. We expect to break ground on The Oaks in December 2021. The Oaks can be considered as a unique hybrid-style home, each a blend of apartment and villa. Every unit is on a "corner lot", which allows for ample private, open-concept living areas with plenty of light and outdoor space, all near neighbors and accessible to exits, parking and storage. Careful consideration has gone into the design of these units so that they are convenient for aging residents. The Oaks will include a new club-house, twenty-four (24) villas, and one, five-story mid-rise comprised of apartment units. Chris-Tel is also in the preliminary phases of completing an auxiliary expansion on the Cypress Cove property to include work on the Dolphin and Captain's Cove dining rooms, the Edison and Estero room, and medical, spa, and fitness rooms.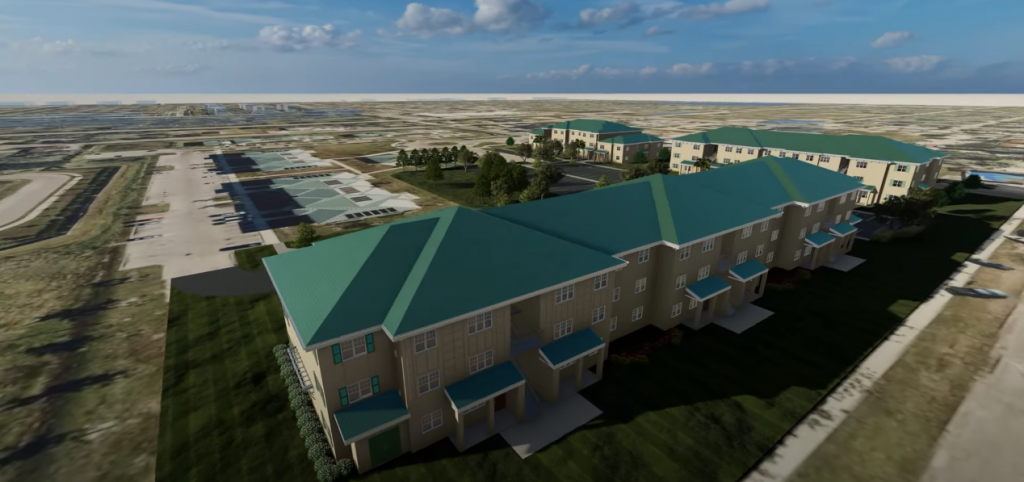 ---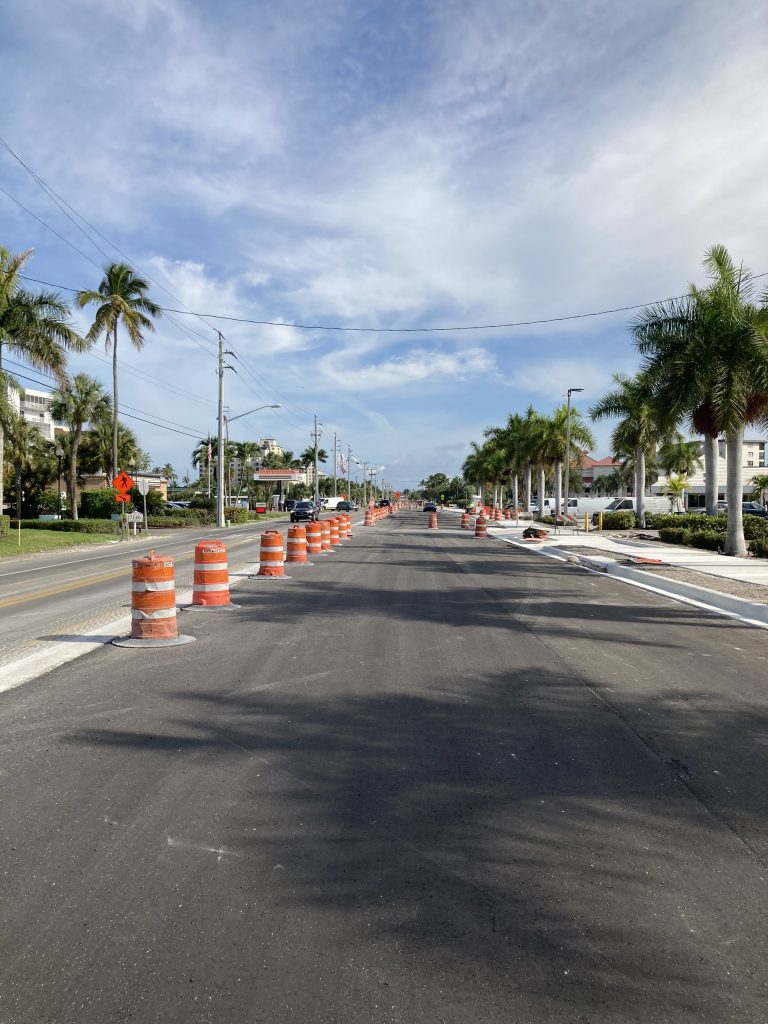 Site/Civil Group
The Site/Civil Group is fast approaching the completion of the largest roadway project Lee County has ever done, the Estero Boulevard Improvements project. Currently, crews are working in Segments 5 and 6 along Estero Boulevard which runs from Albatross Street to Estrellita Drive.
The design for Segments 5 and 6 is slightly different from the other segments in that it consists of a crowned roadway with curb and gutter leading to an enclosed drainage system as opposed to the inverted crown roadway design with the center lane drainage system used previously. The force main for the entire project is already completed and the entirety of the Estero Boulevard Improvements project is slated to be completed early 2022.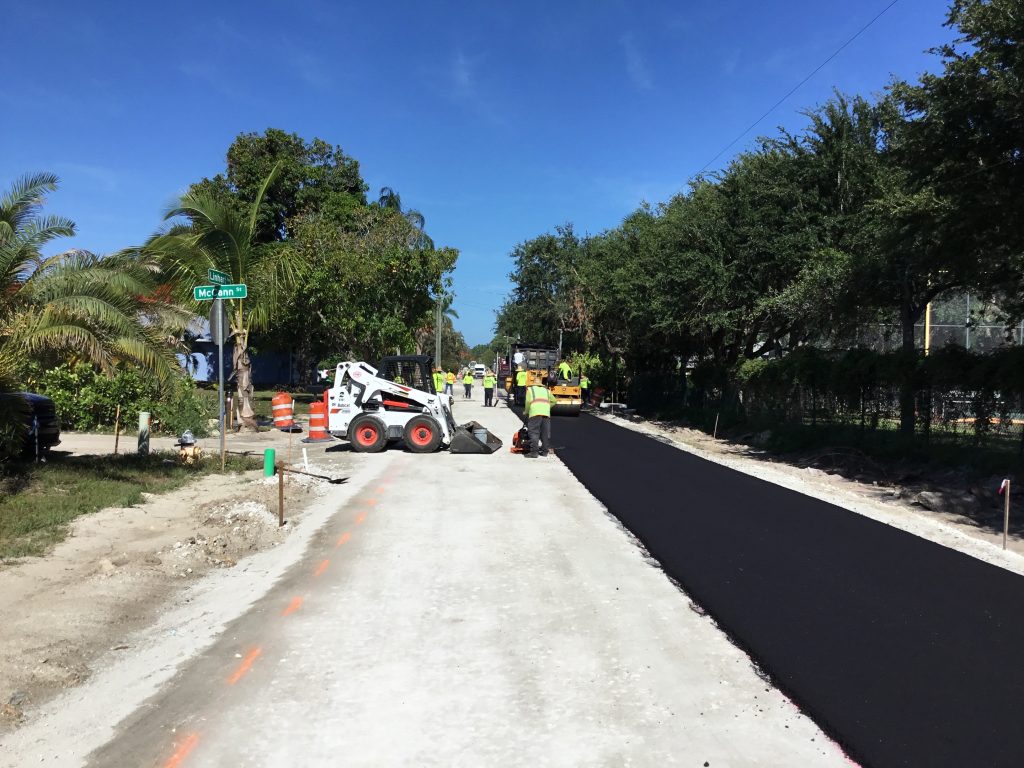 Additionally, our team is making progress on the Linhart/Magnolia/Holly Utility and Drainage Improvements project for the City of Fort Myers. Currently, crews are working on replacing the gravity sewer and water main. Work has been completed on Linhart Avenue up to US 41 with regards to the gravity sewer and water main. The gravity sewer work is now complete on Sunset Road and crews are now working on Magnolia Street, Holly Road and McCann Street to replace the existing infrastructure. The project is expected to be completed in January 2022.
Our team was recently awarded the Billie, High, and Kunze Street Drainage and Utility Improvements project also for the City of Fort Myers. As part of our firm's continuing services contract for the City, we will provide Construction Management services on this project. The scope of work, is similar to the Linhart, Magnolia, Holly Utility and Drainage Improvements project, and includes replacing the gravity sewer, water main, storm drainage, and making improvements to the roadway and sidewalks along the streets. Currently, this project is in Design with construction expected to start later this year. Our team is working closely with the design team to price the project for the City.
---
Special Projects Group
The Special Projects Group at Chris-Tel Construction is responsible for managing all projects that are under the $4M mark. This includes all specialty and continuing services contract projects for the firm. Currently, our firm manages projects under a continuing contract for Lee County, Collier County and Hendry County Government, the Lee County Port Authority, the School District of Lee County, Collier County Public Schools, the City of Fort Myers, and Florida Gulf Coast University.
At any given time, the Special Projects Group can be managing upwards of 30-40 projects, all with quick turnaround times. Some major projects of note recently completed include the Preserve Clubhouse, Seed & Bean Café in Venice, Florida, Supervisor of Elections Renovation, and various office renovations for the Collier County Sheriff's Office.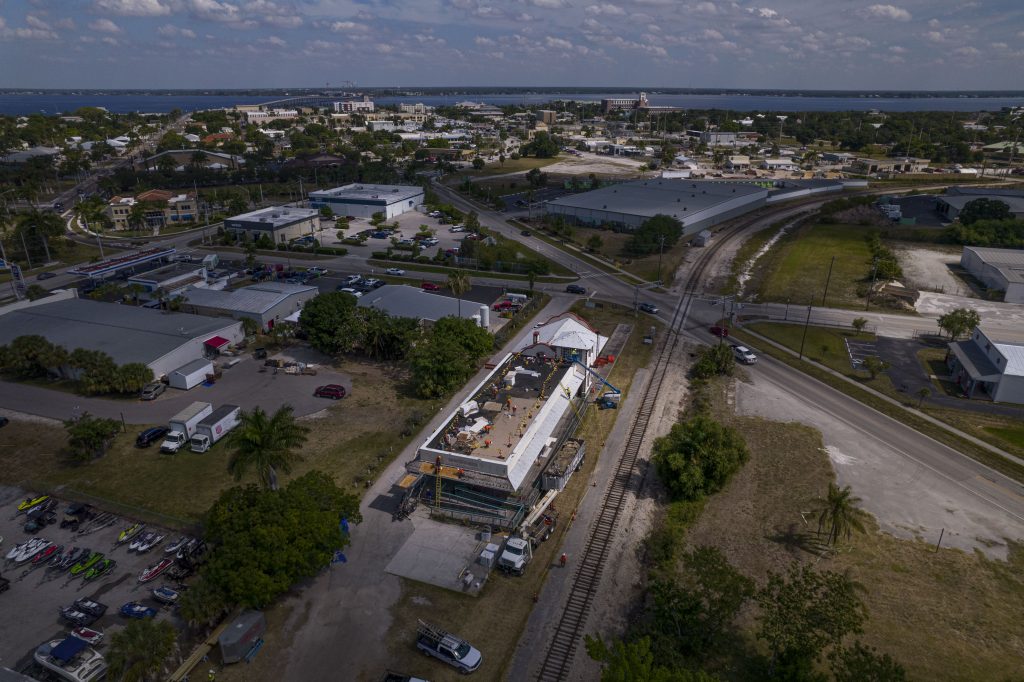 The Special Projects group continues work on the Collier County Sun-N-Fun Wade Pool, Hendry County Jail HVAC and Re-Roof, Lee County Rosa Parks Transit Center, Justice Center Proper Plumbing Replacement, FGCU Scholarship House, and the Historic Restoration of the Punta Gorda Train Depot. The Special Projects Group is run by Donnie Singleton, with Brandi Schulte, Tobey Schneider, and Ken Kensinger managing the multitude of projects day to day to include estimating and project coordination.
---
Chris-Tel Construction Hires Two New Associates
Chris-Tel Construction has recently recruited two new outstanding associates, Michael Robertson, Senior Estimator, and Ken Kensinger, Project Manager for our Special Projects Group.
Michael started with Chris-Tel Construction in May 2021 and has 39 years of experience in the construction industry. Throughout his career, he has managed a multitude of projects ranging from $500,000 to $1.9B.
Michael is a graduate of Eastern Connecticut State University and has a Bachelor of Science Degree in Business with a minor in Business Finance and Accounting.
As Senior Estimator, his responsibilities include project estimation, preparing bids and proposals, bid clarification and interpretation, developing scope of work, and monitoring work progress as it relates to the budget.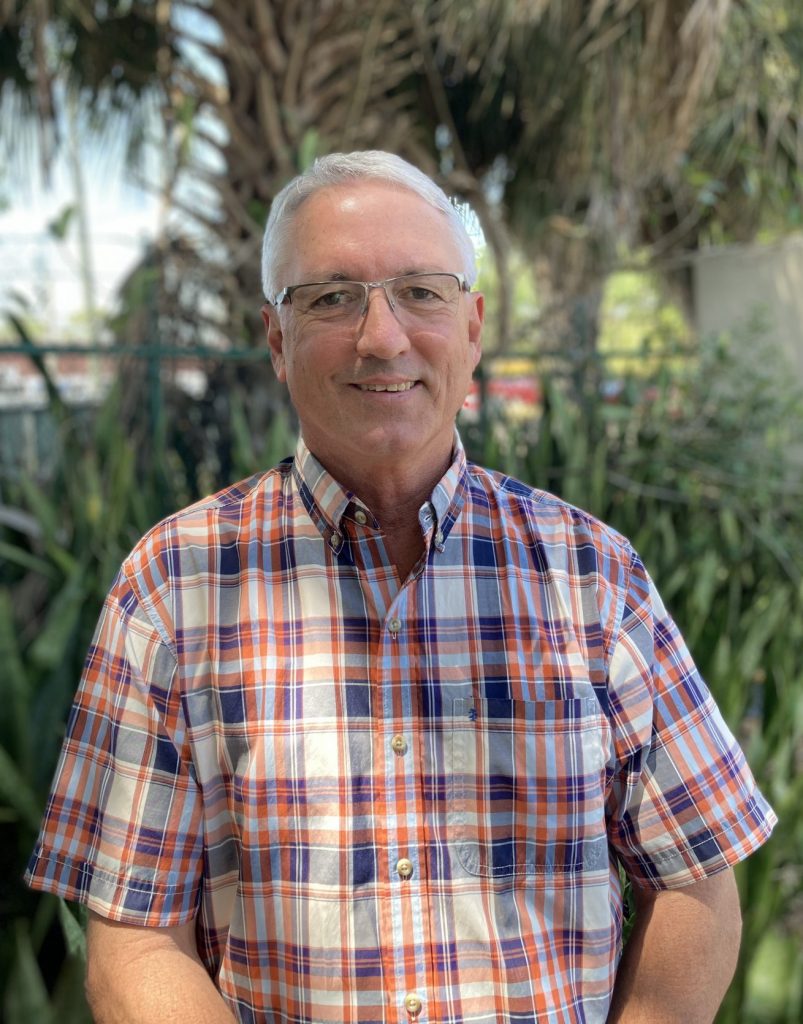 Ken has 40 years of experience in the construction industry. His responsibilities at Chris-Tel Construction will include project administration and estimating, constructability review, client coordination, subcontractor contract and bids, scope evaluation, value engineering, coordination of project documentation and resolution of punch list items.
Ken graduated from the University of Florida with a Bachelor Degree in Building Construction.
Ken will be managing the Collier County Continuing Services Contracts as well as a variety of private client projects for the Special Projects Group.
We are thrilled to have these individuals join our team and are extremely excited to see their growth and evolution here at Chris-Tel. Welcome to the team!
---
Molly Scott to Serve as the ABC Rep for the Horizon Council
The Horizon Council is a public-private board established in 1991 to advise the Lee County Board of Commissioners on economic development issues. The Council has up to 80 members representing cities; chambers of commerce; economic development and trade organizations; community, business, and education organizations; along with various officers and at-large members. Only 25 spots are allotted for economic opportunity, trade organizations, business and community organizations.
The Horizon Council is the voice of business in Lee County. The Council's mission is to improve Lee County's business environment, retain and encourage the expansion of existing businesses, and attract new and diversified employers. It is the only public-private partnership of Lee County Government and business leaders.
Molly Scott was recently appointed as the Associated Builders & Contractors representative for the Horizon Council. Molly will serve on the board of the Horizon Council as a voting member. In addition to being a voting member, Molly will have the opportunity to share perspective and input from the commercial construction industry regarding economic development in Lee County.
Molly also currently serves on the Real Estate Investment Society Board of Directors, the Cape Coral Chamber of Commerce Board of Directors, the Advisory Council for the Associated Builders and Contractors Gulf Coast Chapter, is a member of the Department of Management Advisory Council at Florida Gulf Coast University, a member of the Society of Marketing Professionals (SMPS) Tampa Bay Chapter, a member of the Public Relations Society of America – Gulf Coast Chapter and serves on the Advisory Board of the Pi Mu Chapter of Chi Omega at Florida Gulf Coast University.
---
High Rollin' On the Beach
The Parent-Teacher Organization (PTO) for the Fort Myers Beach Elementary School hosted their fundraiser, "High Rollin' on the Beach" Casino Night on Saturday, May 8th at Shucker's at the Gulfshore and the Cottage Bar. The gaming fundraiser benefits the students attending the Fort Myers Beach Elementary School.
Chris-Tel Construction was happy to help sponsor the event, at which, Molly Scott and her husband Chris Scott attended on the firm's behalf.
---
Every Week is Safety Week
Construction Safety Week is held annually in May, and is an event where companies work together to celebrate the incredibly hard work by people in our industry who make safety the foundation of everything they do.
Safety is our top priority at Chris-Tel and it is celebrated year round by our team. We have created our own safety program here at Chris-Tel which ensures that everyone here does their P.A.R.T. (Preventing Accidents Requires Teamwork). Our staff is 100% committed to keeping themselves, the subcontractors, the jobsite, and the public safe each day on every project.
Our five (5) civil field associates have advanced safety certification, 100% of our field associates are OSHA certified, and 15 field associates collectively hold 56 certifications. Talk about a team committed to safety!