Hit the Ground Running
January/February 2022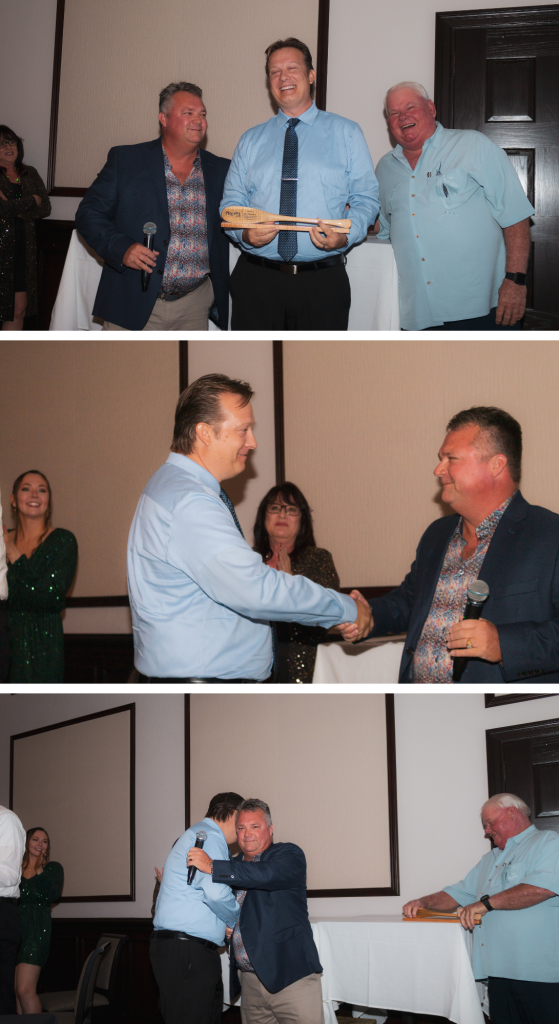 Propel Award Winner
Each year, Chris-Tel Construction recognizes one individual from the firm as the recipient of the Propel Award. This award is given to an individual who embodies the characteristics of team attitude, work ethic, commitment and loyalty.
The Propel Award was established in order to recognize and honor one employee who drives Chris-Tel forward by means of a force. That force being his/her attitude, commitment, work ethic, ideas and know how. The word Propel is defined as a verb meaning "to drive forward or onward by or as if by means of a force that imparts motion". The letters in the word stand for Performance, Resiliency, Operational Excellence, Professionalism, Ethical Behavior and Loyalty.
The recipient is selected through a peer nomination format. Every employee nominates one person whom they feel encompasses the attributes of the Propel Award. The person with the most nominations from their peers is presented with the Propel Award paddle at our annual Holiday Party in December.
This year, the Propel Award was presented to Alex Maziekas, Senior Project Manager. Alex was recognized for his positive attitude, professionalism, proactive approach to project management, and overall operational excellence. Over the course of his three years at Chris-Tel, Alex has overseen difficult projects with strict deadlines and challenging Owners. It never seems to phase him and his calm nature allows for the Owner to feel at ease and that they are in good hands (which they are). He is very helpful and always willing to give of himself. He continues to move the company forward, and we are excited about his future here at Chris-Tel.
---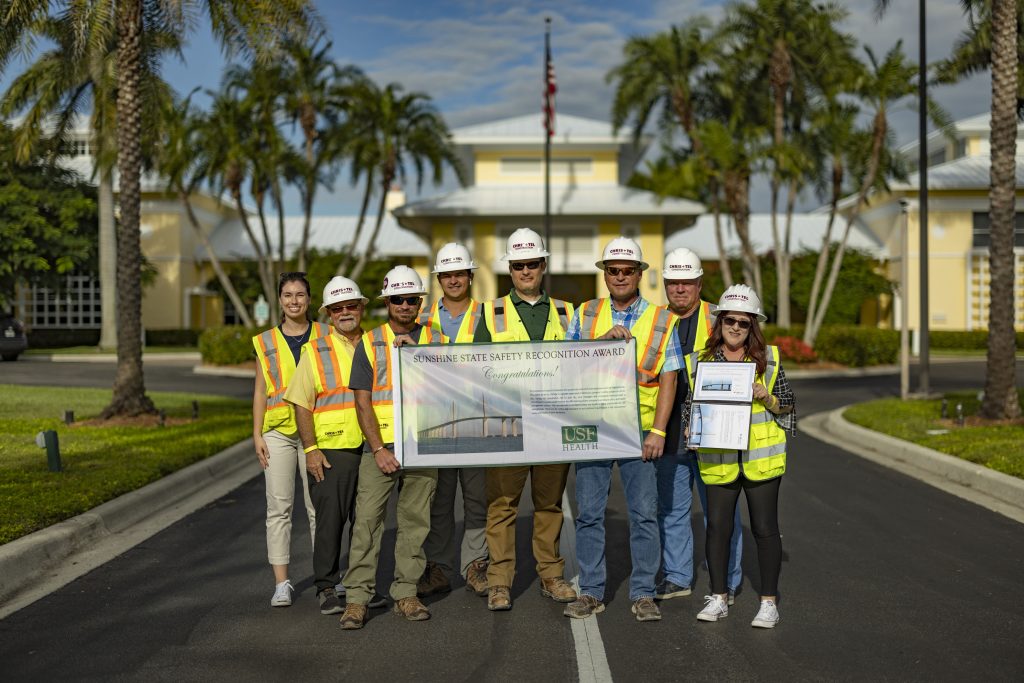 Two Time Winners of the USF Sunshine State Safety Award
Congratulations to our partners and team members working on the Cypress Cove Re-Roofing project for winning the Sunshine State Safety Award. The team prepared for and experienced a full OSHA inspection from our consultant at USF, David Ashman, who was very impressed with the processes, people, and documentation as they related to the job. The day-to-day operations on site are already impressive, with additional safety measures put in place due to the COVID-19 pandemic to protect the residents and patrons of the Cypress Cove community, so this was the icing on the cake.
The Cypress Cove team is lead by Senior Project Manager, Alex Maziekas, with Superintendents, Gary Poore, Lou Primavera, and Assistant Superintendent Daniel Suarez offering additional oversight of the subcontractor and crews performing the work, CFS Roofing Services. The team was presented with the award on November 19th.
This now makes, Chris-Tel Construction a two-time winner of this award! The first award was presented to our team on the Estero Boulevard Improvements—Segment 2 project back in 2019.The 526,930 square foot re-roofing project includes re-roofing nine (9) villa buildings, two (2) mail kiosks, the skilled nursing facility known as The Lodge at Cypress Cove, the assisted living facility known as The Inn at Cypress Cove, the clubhouse, four-story independent living building, lakeside café and eighteen (18) carports. The team is nearing completion and is expected to wrap up construction in March 2022. Once complete, our team will roll in to two additional projects on the Cypress Cove campus including new construction of The Oaks at Cypress Cove and renovation of various amenities and facilities throughout the entire campus.
---
Kudos Korner | Nicole Schaefer | Senior Marketing Coordinator
Nicole came to Chris-Tel Construction in 2018 just after graduating from the University of Central Florida with a degree in Marketing eager to learn and ready to get to work. She was thrust into the thick of things very quickly and without a head start to say the least…but that didn't really phase her at all. As a task-oriented list maker and a very quick study, Nicole was able to take the reigns of her responsibilities soon after she started and run with them. Her professional demeanor, skill set and positive attitude certainly made for many improvements in the marketing department from how our social media was portrayed to the RFQ books we submitted. Nicole was able to take the processes we had already developed and improve them tenfold.
Today, our firm is winning more work, showcasing more professional and comprehensive presentations and becoming the firm to follow with regards to external marketing. Her passion for what she does shines through in every facet of her work and her detail-oriented nature ensures our clients and potential clients can feel confident when selecting our firm as their construction partner. Nicole is able to manage her work responsibilities in stride all the while volunteering in the community and even planning a wedding! She is an outstanding asset to our team and we couldn't be happier to have her on board. Keep it up Nicole!
---
Project Updates
Chris-Tel Construction is currently working to wrap up several ongoing projects and has a full workload ahead of us for the remainder of the year.
The Estero Boulevard Improvements project is officially coming to a close after roughly six and a half years. The last of the concrete sidewalks and curbs have been poured, crews are finishing up the last few entry drive and aprons at several condominium buildings, landscaping is being finished, and storm drain pipes are being cleaned and check for any leaks. The final asphalt wearing course is being placed this week with final thermoplastic stripping completed 30 days later. After a long six and a half years, everyone is excited to be wrapping this project up.
The first phase of the Linhart, Magnolia, Holly Utility and Drainage Improvements project is wrapping up a few punch list items. The second phase of the underground improvements is underway and includes additional improvements to Sunset Road, Sunset Place, and Nelson Street. The additional work will take approximately six months to complete. In another nearby neighborhood, our firm is completing similar improvements along the streets of Billie, High, and Kunze. Construction includes new gravity sewer, storm water facilities and roadway.
The Rosa Parks Intermodal Transfer Center renovations are underway. Superintendent, Derek Adams is overseeing the project which includes renovations to the existing ticket center and bus terminal as well as the addition of two more bus berths. The facility remains open and operational as construction continues. Final completion of the project is anticipated to be June 2022.
Fourth quarter of 2021, Chris-Tel Construction was awarded two additional projects with Lee County; the Lehigh Acres Park Expansion and the South County Regional Library Renovation project. The Lehigh Acres Park Expansion project is a roughly $10M project consisting of the addition of three new multi-purpose fields, disk golf course, concessions, restrooms, and bleachers. The GMP will go to the board for approval in April 2022, subject to board approval, construction will begin in May 2022. As for the South County Regional Library Renovation, BSSW Architects, the selected architect for the project, is working to complete the design drawings. Construction will likely begin in the fourth quarter of 2022, or the first quarter of 2023.
The notice to proceed for the East Pointe project is scheduled to be issued March 1, 2022. Once received, our team will begin construction on the roughly $15M project for the Housing Authority of the City of Fort Myers. Chris-Tel completed the first phase of this project back in 2014. The second phase of the project includes new construction of three, three-story mid-rise buildings totaling roughly 55,000 SF each and includes 90 low income housing units. The project team includes Eric Schneider, Senior Project Manager, Kyle Wiggerly, Project Manager, Melissa Horne, Assistant Project Manager, and Tom Peterson, Superintendent. In addition to the East Pointe Phase II project, our team is currently assisting the Housing Authority of the City of Fort Myers with several maintenance projects in an ongoing capacity.
Just as our crews are wrapping up the re-roof project on the Cypress Cove campus, the team will transition to the new 12-acre site at the corner of Summerlin Road and Bass Road for the Oaks at Cypress Cove project. The roughly $45M project will start site preparation on March 1st, 2022. Once completed, The Oaks at Cypress Cove will offer 24 hybrid apartments and 24 villas with smart home technology as well as a new clubhouse with numerous high-end amenities. The two-bedroom villas range from 2,230-2,396 SF and offer dens, waterfront screened lanais, designer finishes, large walk-in closets and storage areas, and large two-car garages with room for a golf cart.
The hybrid two-bedroom apartments range from 1,406-1,958 SF with open floor plans and large walk-in closets. All apartments are corner units to maximize light and view. High-end finishes, a screened multi-view balcony, and private laundry room are included. The apartments offer short distance hallways with easy access to elevators as well as underbuilding parking and golf cart parking.
The Oaks clubhouse will offer open air dining, two cocktail and pub venues, in-house catering services, heated outdoor pool with cabanas, a firewall feature, and a state-of-the-art fitness center.
The oversight for this project includes Alex Maziekas, Senior Project Manager, Rodney Quinlan, Project Manager, Sarah Miller, Assistant Project Manager, Gary Poore, Superintendent, and Daniel Suarez, Assistant Superintendent.
Chris-Tel Construction will break ground in March 2022 for the MRI Expansion at DeSoto Memorial Hospital. The MRI Expansion includes a one-story building addition, encompassing approximately 3,200 SF for the hospital's new MRI equipment. The team for this project includes Tobey Schneider, Project Manger, and Lou Primavera, Superintendent.
Other upcoming projects include the Lee County Justice Center Proper Plumbing Replacement, Fort Myers Technical College Renovation, FGCU Scholarship House, and the Next Level Church Downtown Location.
As always, our firm continues to complete a variety of miscellaneous projects under $4M for Lee County, Collier County, the Lee County School District, Collier County School District, City of Fort Myers, Hendry County, the Lee County Port Authority under our continuing services contracts.
---
Chris-Tel Construction Hires Twelve New Associates
Chris-Tel Construction was very busy during the fourth quarter of 2021 hiring twelve new associates to the Chris-Tel team; Brian Brett, Assistant Superintendent, Kyle Wiggerly, Project Manager, Melissa Horne, Assistant Project Manager, Tayler Dennison, Front Office Administration, Timothy Leonard, Project Manager, Sarah Miller, Assistant Project Manager, Rodney Quinlan, Project Manager, Daniel Suarez, Assistant Superintendent, Derek Adams, Superintendent, Tom Peterson, Superintendent, Brendan Morrison, Assistant Superintendent, and Stuart Hoyer, Estimator. We are thrilled to have these individuals join our team and are extremely excited to see their growth and evolution here at Chris-Tel.
With several projects underway, and many more in the pipeline, we are thrilled to have the experience and expertise of these team members. Brian Brett will work alongside Tobey Schneider on the Lee County Justice Center Proper Plumbing Replacement project slated to kick off in July of this year, and in the meantime has been on site the Cypress Cove Re-Roof project. Both Kyle and Melissa are expected to start construction on East Pointe Phase II this year and have been diligently preparing for the project kick off.
Tayler effortlessly has filled the Front Office Administrator role and continues to help with administrative responsibilities daily. Tim started with Chris-Tel Construction in September 2021 and wasted no time bringing in work. He has been an asset to our team, assisting with estimating and project management for our firm's continuing contract work, Collier County specifically. Sarah is currently working alongside our team to finish the Estero Boulevard Improvements project next month and additionally has been working on the Billie, High, and Kunze Street Improvement projects. Daniel is currently on site the Cypress Cove Re-Roof project and will role right on to the Oaks at Cypress Cove project once the roof is completed in March. Derek Adams currently serves as the Superintendent on the Rosa Parks Transportation Center working to complete their renovations. Tom Peterson is on site the Southwest Waste addition and renovations project, Rodney is overseeing both the Billie, High and Kunze Street and Linhart, Magnolia, Holly Utility Improvement projects for the City of Fort Myers, and Brendan quickly jumped in to assist with the Housing Authority of the City of Fort Myers' maintenance contract.
Welcome to our team!
---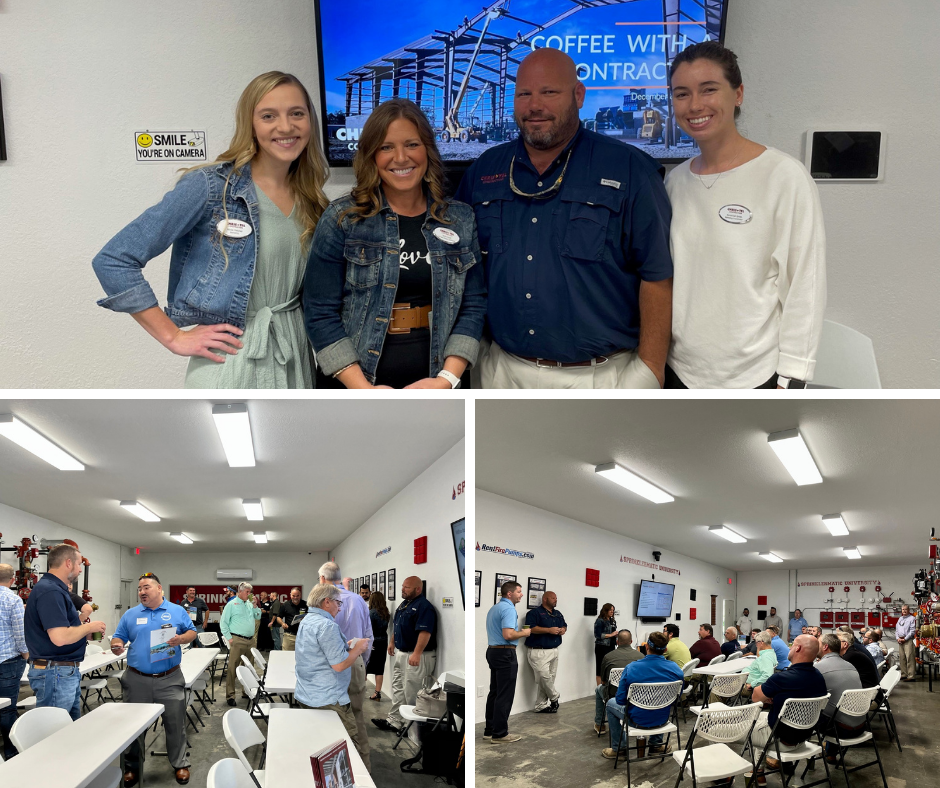 Chris-Tel Construction Hosts Coffee with a Contractor
Chris-Tel Construction was happy to host Associated Builders and Contractors (ABC) Florida Gulf Coast's "Coffee With a Contractor" earlier this month. Molly Scott, Manager of Strategic Development, Sean Smiley, Estimator, and Matt Carland, Manager of BIM/VDC spoke to a great group of local subcontractors about our new electronic subcontractor pre-qualification process, how we bid work, and a few of our firm's upcoming projects that they will have the opportunity to bid.
Special shoutout to ABC for the speaking opportunity, Mobile Mini for the coffee and refreshments, and Sprinklermatic Fire Protection Systems for the location.
The subcontractors were eager to learn about our upcoming projects and excited to be given the opportunity to work alongside our team on the many projects we have coming up.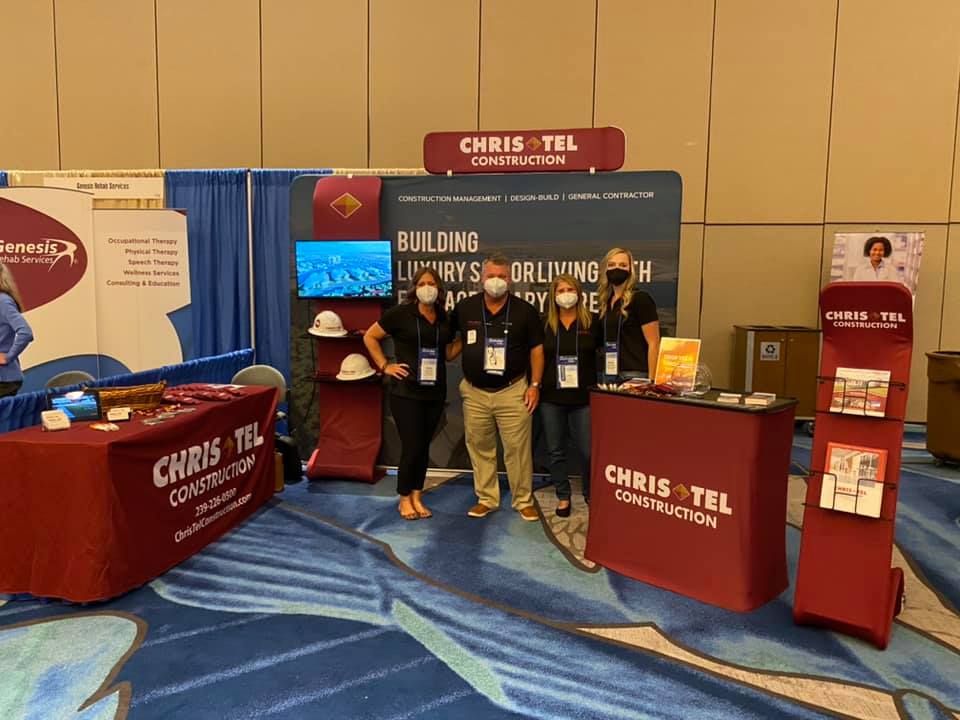 LeadingAge Convention & Expo.
The Chris-Tel Construction team took on the LeadingAge 58th Annual Convention and Exposition in Orlando, Florida in early September. The convention and exposition is an annual event organized by LeadingAge that provides quality educational and networking opportunities to members of the association. This event in particular, was a way for our firm to network with nearly 400 senior living professionals, corporate representatives and other key decision-makers representing adult living communities throughout the state.
Chris-Tel Construction has been a member of LeadingAge Florida for two years now and plans to attend the 59th Annual Convention and Exposition this July as our company's senior living portfolio continues to expand.
FPRA Social Media Tactics Panel
The Southwest Florida Chapter of Florida Public Relations Association (FPRA) kicked off the new year with an exciting Social Media Tactics and Solutions Panel. Our very own Molly Scott, Manager of Strategic Development was one of the panelists asked to speak at the January Seminar. The other panelists were Alyssa Young with Lee Health, Steve Doane with Arthrex, and Kim Livengood, owner of the Bazaar on Apricot & Lime (pictured above).
Molly's presentation titled "Champagne Taste on a Beer Budget: How to Get the Best Social Media Bang for Your Buck" focused on the best practices for an online presence and how to achieve big PR results on a small budget. Other presentation highlights included Chris-Tel Construction's social media evolution, emerging social media trends, evaluating PR campaigns, and additional resources to help make social media more manageable for any size firm.