Ransom Street/Sunset Place Utility Improvements
Utility & Drainage Improvements | Fort Myers, FL
Ransom Street and Sunset Place are local neighborhood roads within the City of Fort Myers, located between McGregor Boulevard and US 41.
The City of Fort Myers has been actively replacing aging and outdated infrastructure in this area of the City in an ongoing progressive manner. On both streets the main goal of the project was to install new sanitary gravity sewer systems in the center of the roadway to replace the aging sanitary sewers that were originally installed on the rear lot lines in a utility easement. As time passed, the existing utility easement has been overtaken by private property and the sanitary sewer system has become more and more difficult to access for repairs and maintenance.
When the new sewer systems were installed in the center of the roadway on both Ransom and Sunset Place, the connections to the existing homes also had to be moved to connect to the new system. New sewer clean-outs and laterals were installed form each property to the new lines in the center of the roadway.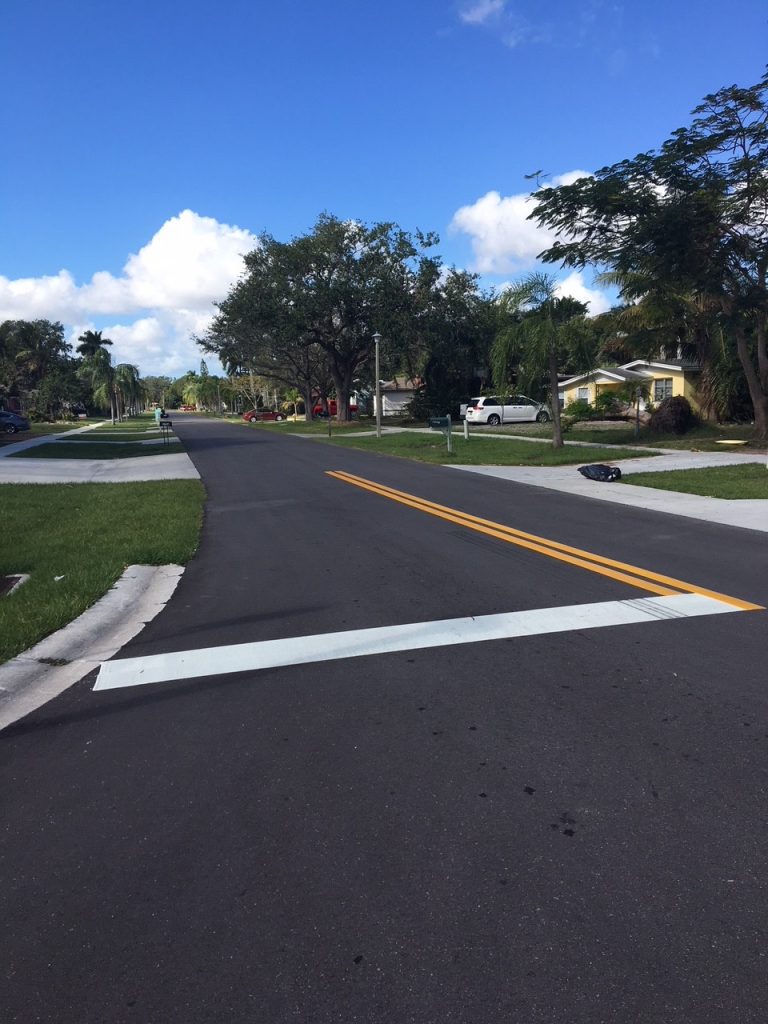 Project Features
Industry:
Infrastructure, Heavy
Sector:
Utility Improvements
Client:
The City of Fort Myers
Delivery Method:
Construction Manager at Risk
Completion Date:
August 2017
Construction Cost:
$1,213,923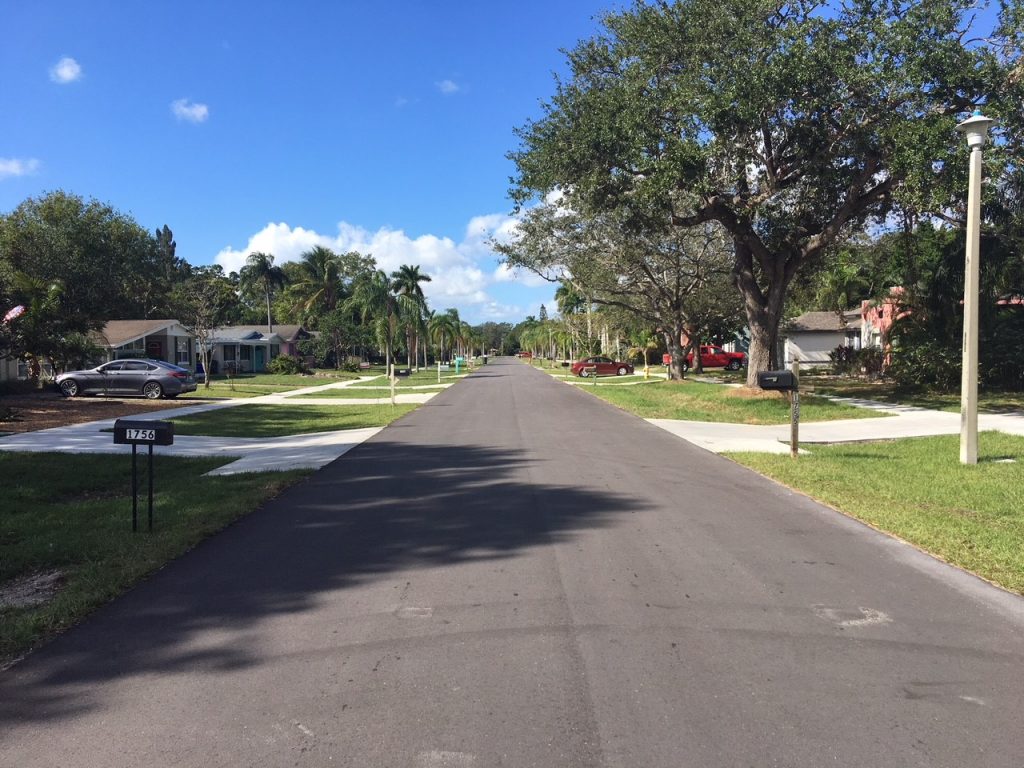 Ransom and Sunset Place are connected by the new sanitary sewer line that was previously installed on Cortez, a north / south roadway that runs parallel to McGregor and US 41 between the two.
In addition to the new sanitary sewer system installed on both Ransom and Sunset, improved drainage was included in the scope and consisted of new storm drain lines, new catch basins, new and properly graded swales in lieu of pipe lines to convey storm water run-off.
The use of swales in lieu of pipe provides improved water quality to the drainage basins.
Because swales were added in place of old and aging storm drainpipe lines, all the residential driveways were removed and replaced in a new configuration to match the new swale lines. These are swale driveways that allow water to convey across them, rather than through pipe culverts under them In the interest of improved usability by pedestrians, new and improved sidewalk facilities were added to the project. Several of the existing sidewalks were damaged, cracked, in poor condition and not compliant with current ADA requirements. In many places existing sidewalks were removed and replaced with new sidewalks to include detectable warning to assist visually impaired persons.
Finally, both Ransom and Sunset Place received completely new roadways to include base and asphalt. Both roadways were regraded to direct storm water to the swale and storm drain systems. New asphalt pavement connected to all the new driveways to ensure proper grades and transitions. New pavement markings were included at both Ransom and Sunset Place as required. Pavement markings included new stop bars at the stop signs at the end of both Ransom and Sunset, new lane lines at the intersection points, new crosswalks were required to connect sidewalks on opposite sides of the roadway and new raised pavement markers at all the fire hydrant locations so EMS can locate fire hydrants form the roadway even at night.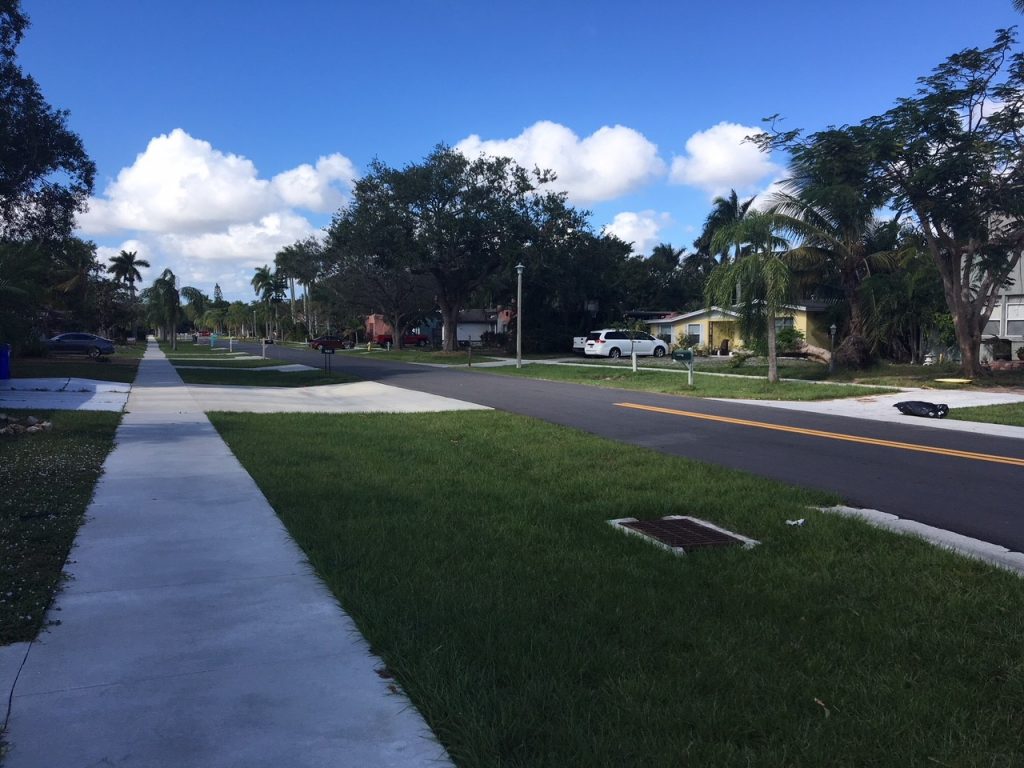 Price Your Project
Price Your Project
Contact us today about your project and find out how we can help you achieve success.
Price your Project